Why Invest in Precious Metals
Investors worldwide include precious metals as part of their investment portfolio. Gold is seen as a 'safe haven' asset in times of economic and geopolitical turmoil and a hedge against inflation. Silver, more speculative in nature than gold, is also a popular investment option, and is more affordable than gold per ounce.
At MyGold®, you can confidently purchase physical gold, silver, and platinum and sell them back at any time in a quick, secure, and efficient manner.
Benefits of Gold Investment
Performance
In NZD terms, gold has performed solidly over the past 5 years, increasing in value by over 60% since 2018. Extrapolated further, the metal has grown in value by over 150% over the past 15 years. As part of a balanced investment strategy, gold is widely seen as an ideal safe haven asset which performs well during periods of economic, political, and inflationary turmoil.
International Market
At MyGold® we work with world-renowned suppliers of precious metals, to supply internationally recognised coins and bars which are traded and accepted globally. Our investors have confidence that they can easily liquidate their gold at any time.
Diversify Your Risk
Gold has long been considered a store of wealth and a long-term hedge against inflation, which tends to perform well in times of economic instability. With all investment portfolios diversification is key, and investing in gold can help diversify a portfolio. This is especially crucial during market downturns, when the price of gold tends to increase.
Inherently Beautiful
Considered the most beautiful of all metals, gold has come to be revered within the many mythologies, legends and histories of numerous cultures around the globe throughout history. Its widespread use in ancient healing traditions has resulted in numerous enigmatic, mystical, or metaphysical associations with the sun as well as numerous deities and magical powers.

Gold has a magic unlike any other metal.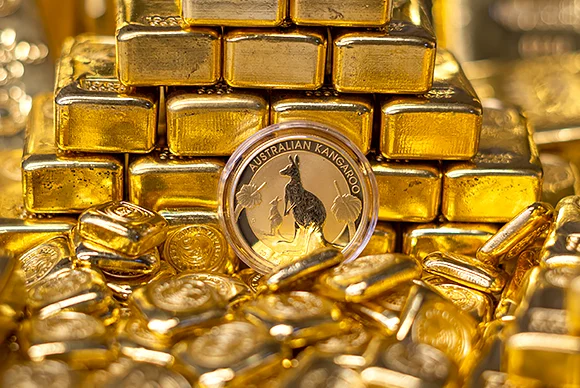 Gold Performance
As gold is always officially quoted in USD, it's not always clear as to how the metal has performed over time in other currencies, once both the gold price and FX rate are factored in. Over the past 5 years, gold has performed significantly better in NZD terms than if measured against the USD. For example, in the 5 years up to March 2023, gold increased in value by 72% in NZD terms (45% in USD).
As part of a balanced investment strategy, gold is widely seen as an ideal hedge that performs well in times of economic upheaval and historically has performed well in times of inflation.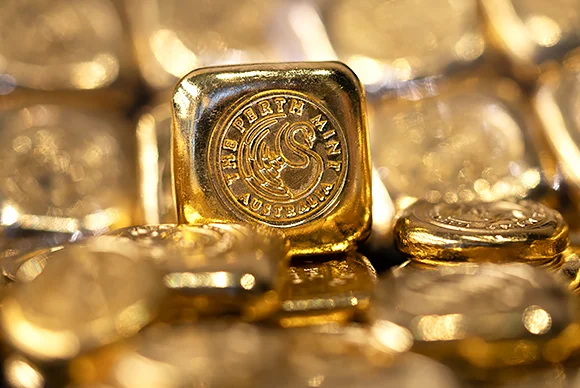 How Gold is Priced
At MyGold® our pricing will fluctuate throughout the day as the price of 'spot' moves with the market. 'Spot' is the actual live price of gold on the international market (normally quoted in USD) before any processing, refining or transaction takes place. All dealers quote prices which are at a margin above 'spot' for physical coins or bars.
The prices shown on the MyGold® website are in New Zealand Dollars (NZD).
In New Zealand, investment-grade gold (99.5% purity and above) is exempt from GST. We typically sell gold at 99.99% purity.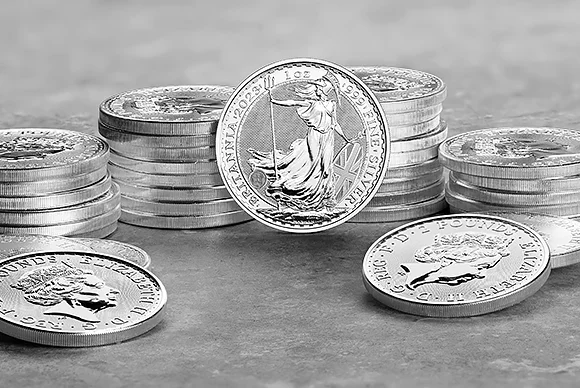 Silver Performance
Silver's performance is less consistent than gold's and is regarded as more speculative. After the global financial crisis, investment demand caused a significant increase in prices between 2009 and 2011. Following a low around 2016, the trend for silver over the past five years has seen an increase of 54.9%, with the average price of the metal being 33 percent higher since 2020 than in the preceding ten years.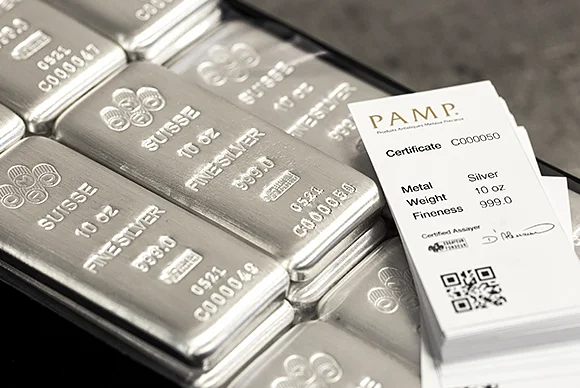 Why Invest In Silver?
Silver is considered a good counterbalance to holding gold. Much more affordable than gold, the metal is regarded as a source of wealth and a tangible asset, widely accepted globally and like gold, has for thousands of years been used as means of exchange.
Silver has over 10,000 industrial uses, from electronics, medical equipment to solar panels and of course wide usage across the jewellery sector.
From an investment perspective, MyGold® offers a wide range of 1oz silver coins from the world's leading mints. These give the investor the option of buying affordable pieces of silver in tubes of 20 or 25 coins or boxes of 250 and 500 coins. Alternatively, 1kg silver cast bars are a very popular option.
Official partners
Within the precious metals industry, the source of metals is of fundamental importance. That's why we only work with the best in the business – large national mints and globally renowned refineries. Our suppliers are members of the LBMA (London Bullion Market Association), the world's foremost authority on purity, quality and governance.
Invest Now
Simply call us on 0800 465 369 or fill out the enquiry form on our contact page and we will get in touch as soon as possible. Our friendly team will be happy to answer any questions you have with investing in gold or silver.